During the recent events in Boston following the marathon bombings, the MBTA shut down their entire network for a period on April 19 and 20.
For users of TransitTimes+, this meant they were automatically notified using the service alert push notification system on their iPhone, iPad or Android device.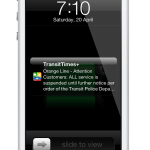 Any TransitTimes+ user with notifications enabled and a favorite trip or live tracker for the Orange Line received this notification (similarly, there were alerts for users of other routes also).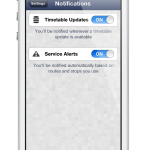 Internally, we have a server that monitors all transit agencies for service updates. By checking these servers every 10 minutes, the system knows very quickly when there's an update available.
Next we match each alert to routes for the respective agency. In this instance we were able to match "Orange Line" text. This alert was then added to the list of active notifications for Boston, and the alert was added to the push notification queue.
Every 10-15 minutes we process the list of pending notifications to be sent out. In this example, the system searches our database (containing only anonymous user data such as route or stop codes) for users of the orange line.
The user then gets notified and they can view more details about the alert within TransitTimes+. Additionally, when using the app, a service alert overlay is also shown to let users know their service may be affected.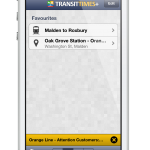 Once the suspect was apprehended, the MBTA resumed limited service. The TransitTimes+ alerts system detected this update and notified users accordingly.